Our Commitment to the SDGs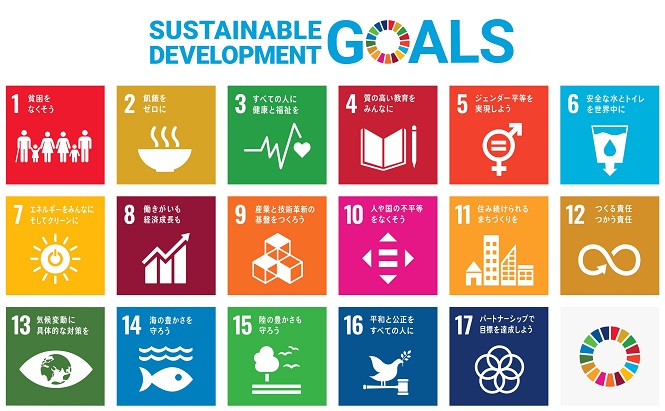 Okinawa Harbor View Hotel supports the Sustainable Development Goals (SDGs) proposed by the United Nations, and aims to contribute to the realization of a sustainable society.
The current spread of the new coronavirus is having a significant impact on the Group's business activities, and we are striving to improve the sanitary environment so that our customers can use our restaurants with peace of mind.
[Toward an Environment] ❻
■ Realization of eco-action
Toilet paper in guest rooms ⇒ A sheet is inserted in front of the toilet paper in two places to encourage its use.
Change of bed sheets ⇒ Installation of eco-cards
Take-out lunch ⇒ Bring your own eco-bag
Mineral water in guest rooms is now served in recyclable aluminum cans to reduce plastic waste.
Garbage separation
Cool Biz
Reduction of electricity consumption and power saving activities
Scenic Resources
The 150-year-old "Gajyumaru" tree in front of the hotel's main entrance was transplanted from the ruins of Tamaki Castle, and was designated as one of Naha's "scenic resources" in 2011.
[Toward a Work Environment and Work-Life Balance].
■Introduction of education system
■ Diversity
Promote employment of persons with disabilities
Acceptance of Interns
[For legal compliance] ➑, ➓, ⓫
■ Compliance with Laws and Regulations
Compliance
Risk Management
■Personal Information Protection
■ Elimination of Relationships with Antisocial Forces
[To the community].
Participation in cleanup activities
PARTICIPATED IN CLEANUP ACTIVITIES ORGANIZED BY AGT
Cleanup activities in the vicinity of the hotel
Partnerships and Collaboration
Collaboration with companies in the prefecture that promote Kariyushi wear and circular economy (circular economy) initiatives
What are the SDGs?
The SDGs (Sustainable Development Goals) are international goals for the period from 2016 to 2030, adopted at the UN Summit in September 2015.
The 17 goals for achieving a sustainable world are defined, and the organization is required to tackle a wide range of issues in an integrated manner to realize a society in which "leave no one behind" on the earth, so that women, children, people with disabilities, the elderly, and other vulnerable groups are not left behind. We are required to tackle a wide range of issues in an integrated manner.
The goal is to realize a better international society by tackling global issues such as environmental and poverty problems, which are becoming increasingly serious.